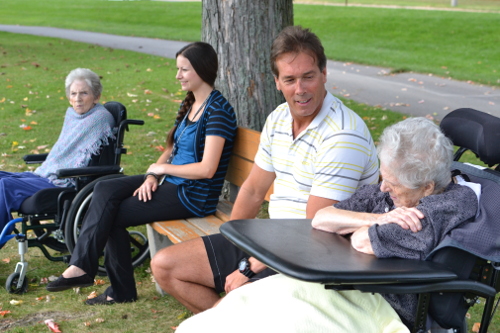 St. Joseph's Continuing Care Centre operates a newly-constructed Long-term Care home with 150 beds on York Street.
Accommodations
St. Joseph's Continuing Care Centre offers a variety of accommodation options. "Preferred Accommodation" is the term used to describe private or semi-private rooms with special features, whereas "Basic or Standard Accommodation" refers to the style of rooms that the home offers in this category.
Costs
The Ministry of Health and Long-Term Care (MOHLTC) provides funding for homes. The amount paid by residents for their accommodation is called a "co-payment". If your income is not sufficient to pay for the basic accommodation rate, there is a subsidy available to reduce your accommodation rate. Subsidies are only available for basic accommodation. Additional information is available at the Champlain Local Health Integration Network (LHIN).
Who can apply?
Individuals requiring Long-term Care will be assessed for eligibility by filing an application form with the Champlain Local Health Integration Network. Your needs will be assessed by a Champlain LHIN Case Manager, who will answer your questions about the application, placement, and eligibility process. Applications for admission can be made at the office of the Champlain LHIN in Cornwall:
Champlain Local Health Integration Network
709 Cotton Mill Street
Cornwall, Ontario
K6H 7K7 
TOLL FREE: 1-800-538-0520
Fax. No.: 613-745-6984