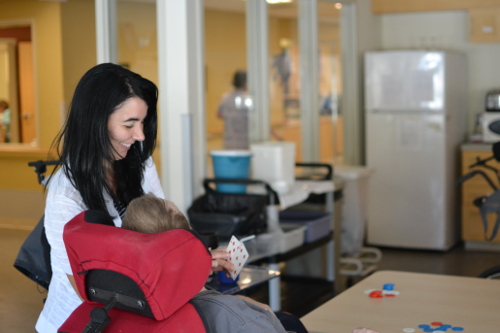 St. Joseph's Continuing Care Centre is always looking for new volunteers to join our team! Our group of dedicated volunteers ensures that our residents and patients maintain the highest quality of life possible by complementing services provided by staff. Volunteers play a key role in helping us remind residents that they are part of a larger community that cares. Whether you are interested in personal growth, new friendships, or completing volunteer hours for school, give St. Joseph's Continuing Care Centre a try.
Board of Directors
If you are interested in governance and would like to apply to become a Board Member, send a cover letter and resume to:  executiveoffices@sjccc.ca .
Terms are ordinarily for three years, and meetings are held monthly except during July and August.
Benefits of Volunteering
Volunteering can be extremely rewarding, and provides an opportunity to work with different types of residents, patients and staff; but there are many other benefits to enrolling in our volunteer program:
Gaining work experience and learning new skills to build upon your resume.
The opportunity to work in one or many areas of health care.
Helping others and developing new and lasting friendships.
Feeling a sense of accomplishment.
Ways to Volunteer
We offer volunteer opportunities with a flexible schedule adapted to your specific work and family life. There are many different ways to offer a hand as a volunteer, including:
Assisting at mealtimes.
Working in the Gift Shop.
Assisting with clerical activities.
Assisting with recreational activities and events.
Portering residents to recreational and religious activities, meals, and physical therapy.
Working on seasonal crafts and decorating.
Gaining excellent work experience by aiding our Dietary or Maintenance staff.
Becoming part of our Auxiliary and assisting in fundraising.
Portering and working with our hairdresser.
Youth Volunteers
Community involvement is now a high school requirement, and St. Joseph's Continuing Care Centre offers a fun and rewarding way to earn those hours. By volunteering with us you will be able to make a difference in your community while gaining great work experience and developing leadership qualities.
If you're interested in a career in the healthcare industry, we can allow you to join nurses, medical staff, social workers, recreation staff, and occupational and physical therapists at work. This exposure will give you front-line experience in health care that will look great on a resume, and help you to decide whether a job in health care is for you.
Our Volunteer and Recreation Supervisor will work with you to determine exactly what area you would like to work in and create a schedule that comfortably works around school, work, and other commitments. Volunteers can work any time throughout the year, but we also offer a summer program that can fulfill your hours requirement in short order!
How to Become a Volunteer
Joining our volunteer team can be done in just a few steps. The first step is to pick up a volunteer application form onsite, or download and email your application online.
Click Here to download our Adult and Student Volunteer Application Form
After your application is received, you will be contacted for an initial interview. The interview process allows both parties to discuss the expectations of volunteering. It allows us to find out your talents and interests as well as to discuss our needs. We will do our best to find out when it is convenient for you to volunteer, and find an area that interests you!
Before you begin volunteering, we require a current Canadian Police Information Centre (C.P.I.C.) check and a current Two-step Mantoux test for Tuberculosis. You must also attend a volunteer orientation session prior to volunteering. These requirements, which will be discussed in more detail during the initial interview, are quite simple, and St. Joseph's Continuing Care Centre will reimburse you for the cost of your police check.