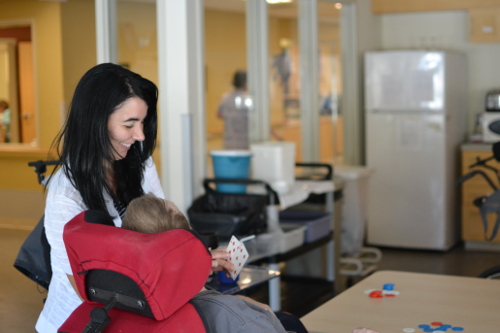 Volunteering
St. Joseph's Continuing Care Centre (SJCCC) is always looking for new volunteers to join our team! Our group of dedicated volunteers ensures that our residents and patients are fully supported by complementing the services provided by staff. Volunteers play a key role in helping us remind residents and patients that they are part of a larger community that cares. Whether you are interested in personal growth, new friendships, or completing volunteer hours for school, SJCCC might be right for you!
Volunteer Opportunities

We offer a flexible schedule adapted to your specific work and family life. There are many different ways to offer a hand as a volunteer including:
Assisting at meal times

Assisting with recreational activities and events

Portering residents to recreational and spiritual care activities, meals, and physical therapy

Becoming a Board Member

Joining the RHSJ Health Centre Fund and assisting with fundraising events 
Youth Volunteers

Community involvement is a high school requirement, and SJCCC offers a fun and rewarding way to earn those hours. By volunteering with us, you will be able to make a difference in your community, while gaining excellent work experience and developing leadership qualities.

Student volunteers can work any time throughout the year, but we also offer a summer program that can fulfill your hours' requirement quickly!
Co-op Education Program
Our Centre offers co-op placement for students enrolled in such programs at both secondary and post-secondary levels. Please discuss your plans with your co-op teacher to see if SJCCC is the right choice for you. Here is a list of departments where placement hours are available: 
Dietary

Maintenance

Nursing

Physiotherapy and Rehabilitation

Recreation
How to Become a Volunteer
It's easy! 
Email our Volunteer Coordinator at [email protected] to let them know you are interested. They will contact you with a link for the application and let you know the next steps and current opportunities available. 
*After your application is reviewed, you will be contacted for an interview; this process allows both parties to discuss the expectations of volunteering.

*Before you begin volunteering, we require a current Canadian Police Information Centre (C.P.I.C.) check and a Two-step Mantoux test for Tuberculosis. You must also attend a volunteer orientation session prior to volunteering. These requirements will be discussed in more detail during the initial interview, and St. Joseph's Continuing Care Centre will reimburse you for the cost of your police check.
Please note: Youth volunteers under 18 years do not require a police check.